Did you know that the fastest and easiest way to add new features to your blog is by adding widgets into the sidebar?  Widgets are also a great way to personalize your blog and help it stand out from all of the others.
Here is a list of the 42 most popular and most useful widgets used on class blogs, student blogs and personal educator blogs.
We've set up a Widget Demo blog so you can check out most of these widgets in one handy location to see how they look in action!
Scroll down to the bottom of this post for more instructions on how to add widgets to your blog. Don't forget, most of these widgets can also be embedded using Insert Embed Code in any page or post as well!
Authors
Author widgets are a handy way of displaying information about yourself or providing a link to posts by different authors on a shared blog or individual student blogs.
About.me – Pulls your About.me profile information, and a small screenshot of it, into your sidebar.
Author widget – Provides a handy link to authors' posts on a group blog.  Reader just need to click on the authors name to view their posts.  See it in action listed as Student Authors on Mrs Harris's Reader's Response.
Class blog widget – Displays a link to all student blogs attached to your class blog via My Class.  See it in action under Class blogs on Huzzah's class blog.
Clocks and Calendars
Clocks are great for displaying the time in your location which helps when you are trying to develop connections with classes in other countries.  They also help younger students learn about time and time zones
Helpful for Readers
Blogroll – Display a list of the blogs you like to read or share links to resources.
Email Subscription – Adds email subscription to your sidebar so readers can subscribe to email notifications of new posts.
Google Maps – Embed a Google map – complete with directions, street views, and more.
Miscellaneous
Multimedia
Images and videos are great ways of sharing visually what is happening in your classroom and class.  They are also a good way of  delivering content and engaging visual learners
Reading
Bookshelf widgets are a good way to share your favorite books or provide recommended reading lists.
The two commonly used widgets for sharing books are: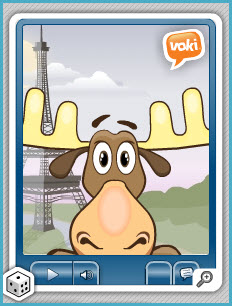 Talking Avatars
Talking avatars fulfill a range of purposes including grammar and fluency reading practices, delivering content and engaging auditory learners.
Voki – Add a speaking and highly customizable avatar to your blog.  Record you voice, create a character, and much more!
Read The Words – Human avatars that will read text or recorded audio right in your blog.
Site Pal – A paid widget that can make scarily realistic avatars using uploaded photos of you or students.
Visitor Statistics
Visitor tracking widgets display the visitors to a blog.  Not all blog visitors leave comments.  Visitor tracking widgets are an important for making students aware that they are interacting as part of a global community.  This is incredibly motivating for students and provides built in opportunities for geography and maths lessons.
It's common to see a range of visitor tracking widgets used on class and student blogs.
ClustrMaps – One of the most popular widget on Edublogs.  Displays a small map with "dots" for each of your visitors.
Who's Among Us – With an account, includes some nice stat collection tools.
Weather
Weather widgets help classes from other countries learn about weather and seasons in your area while helping teach younger students more about weather and how temperature is measured in different locations.
AccuWeather – The most complete collection of weather widgets to show current conditions and forecasts.
WeatherBug – Displays live, local weather conditions and forecasts.
How To Add Widgets
There are 100's of different widgets that you can add to your blog sidebar and many of them are added using embed code in a text widget.
Adding these widget is as simple as follows:
1.  Grab the embed code for the widget you want to add.
2.  Go to Appearance > Widget.
3.  Drag a text widget into your sidebar.
4.  Paste the embed code into the text widget.
5.  Click Save and Close.
6.  You should now see the widget in your sidebar.
Share your favorite widgets
With so many widgets that you can to use, we are certain to have overlooked a few of your favorites.
Leave a comment below with any that we missed so that we can add to the list!